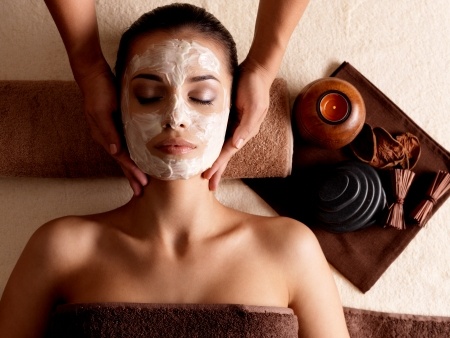 Dermi Wax Center offers high quality waxing, facials, microdermabrasion, body scrubs and body wraps spa services at affordable prices. With our 16 years of experience, we know how to deliver spa relaxation and skin rejuvenation so you will have an enjoyable experience.
The products are 100% safe for your skin. The green hard wax is very gentle and is less painful than waxing strips. The wax is a comfortable temperature and the waxing is quick so you can continue along with your day.
Dermi Wax Center's friendly staff will assist you in choosing the right treatment for your skin type. We will gladly answer any questions about which facial or body treatment would be best for you. Our spa is a relaxing environment located in Orlando, FL.
We love what we do and it shows. Our clients have shared their experiences at Dermi Wax Center below.
What Our Clients Are Saying
She was extremely kind and professional! She did an excellent job! ~ March 04, 2015
They are great professionals. I will definitely be back. ~ February 28, 2015
Gloria was absolutely fantastic!!! It was my 1st time and I don't think there is anyone else who could have made me feel more comfortable in this experience. ~February 10, 2015
Gloria is absolutely wonderful! ~ February 07, 2015
Amazing!! Explains everything and is very sweet. Takes time to reach perfection and knows a lot about hair. ~ February 05, 2015
Overall Great Service! ~ January 31, 2015
Gloria was amazing. She took her time and was very professional and ensured that the waxing was as painless as possible. I can't wait to go back. ~ January 30, 2015
Great experience- would HIGHLY recommend!! She completely changed my view on waxing and I will definitely be using her services from now on. ~ January 09, 2015
She is very friendly and cooperative. ~ December 22, 2014
I had a Brazilian which wasn't as painless as expected and she explained everything as she went. I also had my eyebrows done while there and she did a fantastic job! ~ December 17, 2014
Buy the exfoliate. It'll assist in future visits. ~ December 16, 2014
She's great. Highly recommend. ~ December 11, 2014
Diana did my service and she was great! Very nice patient. ~ November 20, 2014
She's great!! Perfectionist! ~ November 07, 2014
Gloria is very professional. I definitely recommend her. She made me feel very comfortable and did a great job! ~ October 28, 2014
She's amazing! ~ August 30, 2014
She was great! I'm definitely going back to see her! ~ August 30, 2014
Fabulous! ~ August 20, 2014
She was wonderful! She explained everything it was my first time. I would highly recommend her to anyone that is thinking about getting a bikini wax or brazilian wax. ~ August 2014
She was great! I'm definitely going back to see her! ~ Victoria S. August 2014
She's amazing! ~ Tania G.   August 2014
I've been waxing for about 4 years now and this was hands down the best wax experience I've ever had. Gloria was very professional and knew exactly what she was doing. I went back to shaving and it had been a few months since my last wax because my last experience at a different facility was so painful. She assured me that it wasn't going to be painful and I had nothing to worry about. The confidence in her statement was assuring and she proved herself. I was speechless at how easy and painless (less painful than every other time I've had it done) it was. I was telling everyone I knew about my experience because I was so happy with the service! && the place was clean!! You'll be happy you made the choice to see her!